Home Boarding
"Cherished Care, Family Love."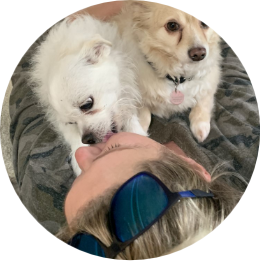 Professional Home Boarding Services: We Treat Your Pets Like Family!
At Pipsqueak Pups, we offer a caring home for small breed dogs, catering to individuals with active lifestyles, whether it's a weekend getaway to Whistler or an extended vacation in the Mediterranean.
Our all-inclusive prices cover daycare activities! After an engaging day at daycare, your furry companion will be transported to one of our homes, where they'll be part of a loving family round-the-clock, provided with a cozy bed to rest.

Why leave your furry friend alone in a kennel at night? Experience the difference with us! xoxo

Indulge your pet in luxury premium accommodations for the ultimate stay in our homes!

Rates: $110/night (Includes daycare - valued at $57.75)

An extra $15 fee is applicable during peak seasons such as long weekends in March, December, and the summer months.

Pick-ups until 10 am on the scheduled day; after 10 am, a regular daycare fee applies.
All boarding takes place within our team members' homes.

Home Boarding Policies & Cancellation Terms:
50% payment secures your dog's spot; the balance is due on boarding day.

30 days' notice required for a refund or full credit on cancellations.
Cancellations within 8-30 days receive full credit for future stays.
Cancellations within 2-7 days receive a 50% credit for future stays.
No refunds or credits for cancellations within 48 hours or for no-shows.
Early pick-ups do not warrant refunds.
Limited capacity; bookings operate on a first-come, first-served basis.
Please note: Our prices include taxes and are subject to change.